XIS-6040
Astrophysics Inc.
XIS-6040
Flexible System Design
Checkpoint Security: Small Baggage and Parcel Inspection
XIS-6040 X-Ray Inspection System features a tunnel opening of 60.0 cm x 40.0 cm.
The XIS-6040 offers a compact design with increased dimensions for a wider range of placement and expanded screening capability. The XIS-6040 is ideal for both small parcel and checkpoint screening.
The XIS-6040 has been placed at hotels, prisons, government sites and transportation hubs. With its small frame, the XIS-6040 maintains high mobility, but with a wider tunnel size for varied application.
With a powerful 160kV generator, the XIS-6040 provides crisp, high resolution images due to its advanced software and superior processing technology.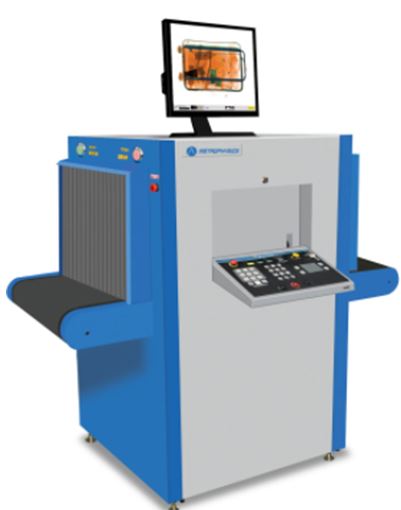 GENERAL SPECIFICATIONS
Tunnel Opening: 60.0 cm x 40.0 cm (W x H)
Dimensions2: 141.2 cm x 84.6 cm x 124.5 cm (L x W x H)
Net Weight2: 370 kg
Conveyor Speed: 23 cm/s, (forward or reverse)
Conveyor Height: 71.6 cm (from floor)
Conveyor Capacity: 165 kg (evenly distributed load)
TECHNICAL
Sensitivity: 40 AWG Typical, 38 AWG Standard
Spatial Resolution: 1.0 mm Horizontal, 1.0 mm Vertical
Steel Penetration1: 39 mm Typical, 37 mm Standard
Contrast Sensitivity: 24 Visible Levels, 4096 Gray Level
Film Safety: Guaranteed up to ISO 1600 (33 DIN)
X-RAY GENERATOR
Voltage: 160kV, Operating at 150kV
Tube Current: 0.7 mA
Cooling: Sealed Di-Electric Oil Bath with Forced Air
Duty Cycle: 100%, No Warm-Up Procedure Required
Beam Direction: Diagonally Upward

Detector: 1152 Channels in an L-Shaped Array
COMPUTER
Processor: Intel® Core i5
Memory: 4 GB RAM
Storage: 500 GB HDD, 120 GB SSD • Video Card: 1 GB Video Card
Platform: Windows® OS
Backup: Uninterruptible Power Supply (Computer Operation- 20min)
VIDEO
Display Type: Single 19" LCD Color Monitor
Display Resolution: 1280 x 1024; 24 Bit/Pixel Color
ENVIRONMENTAL
Operating Temperature: 0°C - 40°C
Storage Temperature: -20°C - 60°C
Humidity: Up To 95% Non-Condensing
ELECTRICAL
Power Requirements:
110VAC ±10%, 50/60Hz, 15 Amp Max
220VAC ±10%, 50/60Hz, 10 Amp Max
HEALTH AND SAFETY
Compliant with USFDA, Center for Devices and Radiation Health Standards for Cabinet X-Ray Systems (21-CFR 1020.40)
Typical Radiation leakage is less than 0.1 mR/hr (Leakage less than 0.5 mR/hr permitted by the Federal Standard)

FEATURES
STANDARD FEATURES
OPTIONAL FEATURES

6 Color Imaging
9 Quadrant Zoom
Atomic Z-Number Measurement
Auto Image Archiving (150,000)
Baggage Counter
Color and Black/ White Imaging
Continuous Zoom up to 64x
Vertical Zoom Panning
Geometric Image Distortion Correction
High Penetration Function
Heavy Duty Roller Casters
Image Annotation
Image Review
Manual Bitmap Archive
Material Discrimination
Multi-Tier Accessibility
Network Ready
Organic/ Inorganic Imaging
Operator Training Program (OTP)
Picture Perfect
Print Image Capable
Pseudo Color
Real-Time Image Manipulation
Real-Time Self Diagnostics
Reverse Monochrome

24" LCD Monitor
Computer Based Training (CBT)
Custom Paint
Density Alert
Dual Monitors (19" or 24" LCD)
Entry/ Exit Roller Tables (50 cm Increments)
Footmat Operator Interlock
Larger Heavy Duty Casters
Local Language Support
Polar Kit
Radiation Meter
Remote Workstation Configuration
Screener Assist Software
Test Case
Threat Image Protection (TIP) Software
Tropical Kit
Wireless Barcode Scanning
Astrophysics Inc.
XIS-6040M -
High Mobility Screening
XIS-6040M (Mobile) is an X-Ray Inspection System with tunnel dimensions of 60.0 cm x 40.0 cm.
XIS-6040M is specifically designed for easy relocation at prisons, ships, banks, courthouses, government facilities and other high security checkpoints where rapid deployment and quick system operation is essential.
The XIS-6040M features larger heavy duty wheels, stainless steel handle bars and a lockable operator control panel which folds seamlessly into the system when not in use.