Inspection mirror D-5
Inspection mirror D-5
Inspection mirror for security services, customs, police, and rescue services.
The mirror kit is designed for visual inspection of inaccessible places, including in poor lighting conditions;
- in engineering systems for various objects status examination;
- in customs clearance when solving problems and controlling passenger and freight transport;
- in the aftermath of emergency situations (examination of debris, inaccessible areas);
- for inspection of public utilities (wells, lifting equipment, sewers, etc.);
- during the inspection of vehicles;
- for special operations of emergency and security services.
Mirror consists of 5m, 4-section telescopic pole and convex acrylic mirror diam.300mm. Mirror equipped with LED illumination of inspection area. 6 high luminosity LEDs are embedded into aluminum shock proof head.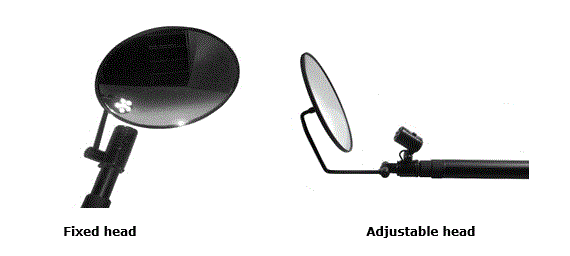 DELIVERY SET :
Telescopic pole (1370mm - 4700mm) with 6 LED head (3 x AA, not included)...........................1 pcs
Convex mirror Ø300mm.....................................................................................................................................................1 pcs