HI-PE Plus enhanced walk-through multi zone metal detector
CEIA HI-PE Plus enhanced walk-through multi zone metal detector
The HI-PE Plus Multi-Zone Metal Detector provides accurate detection of all metals, high level of discrimination of non-threat items, full compliance with the latest Security Standards and exceptional immunity to external interferences.
The most advanced Security Standards require detection of all ferrous and non-ferrous metal weapons and of those constructed in special non-magnetic alloys. The HI-PE Plus detects fi rearms and knives of this type, even when they are hidden within body cavities, and accurately indicate the position of the threat, its intensity and its prevalent composition.
KEY FEATURES:
Accurate Detection of all Metallic Threat Items
High Discrimination and Throughput
Exceptional Immunity to external interferences
Compliant with and Certified to the Strictest Security Standards for weapons detection
Unmatched Reliability
Rapid Installation
Panel Design
ACCURATE DETECTION OF ALL METALLIC THREAT ITEMS
Capability to detect the full range of metal weapon threats even within body cavities
60 localization zones: 20 vertical & 3 lateral
Met-Identity technology for Identification of Threat Composition
MOST POWERFUL AND VERSATILE SECURITY FEATURES
Up to 50 built-in Security Programs:
- Up to 30 International Standards
- Up to 20 Customizable Levels
Setting the Security Levels are easy and versatile
HIGH DISCRIMINATION AND THROUGHPUT
Cutting-edge discrimination technology allows personal effects to be ignored, creating rapid transit fl ow
No need to remove items such as belts, coins, keys, jewelry, watches, wallets, etc.
Better Discrimination = Shorter Lines and/or Less Staffing
EXCEPTIONAL IMMUNITY to environmental interferences makes the Metal Detector easy to use even when electrical noise is encountered.
UNIQUE ALARM SIGNALLING
High visibility of the control unit and the zone indication independent from the operator position and the installation environment
Flexible Acoustic Alarm Signaling System:
- 10 Continuous and Pulsed Tones
- 34 Special Sounds
10 Alarm Volume Levels
Very High Precision Transit Counter
RAPID INSTALLATION

One touch guided automatic installation (OTS):
- Innovative function assisting the installation through an automatic step-by-step procedure
Continuous self diagnostics assures monitored performance reliability
SPECIFICATIONS
GATE STRUCTURE
State-of-the-art, robust and washable panels
Protected against aging, weather and wear

OPERATIONAL FEATURES
High discrimination and transit flow rates five or more times greater than other metal detection systems
Quick reset time as short as 0.2 seconds for high throughput rate
Very high detection speed (up to 15 m/sec.)
Built-in operational functional verification
One-touch key reading of inbound, outbound and Security Level Data


QUALITY

Continuous self-diagnostic system
Proven reliability
No periodic re-calibration and preventive maintenance required
No scheduled maintenance
Fully digital design

ALARM SIGNALING


Multi-zone display bar for "height on person" localization
4 light bars with selectable entry/exit and pacing indication
Green and red metering signals proportional to the mass of the detected target
10 selectable continuous and pulsed tone plus 34 special tones
10 selectable sound intensities ranging from 0 to 90 dbA at 1m


TYPE OF SIGNALING

Fixed or proportional to the mass in transit - visible from 6m under lighting of 4000lux
60 distinct zones (20 vertical x 3 lateral) entry and exit side
PROGRAMMING

Up to 50 built-in Security Programs
Remote via Infrared Remote Control Unit, BT or Ethernet 10/100 base T (option) interface
Security level: International Standard (IS) command / Chip card
Local by Control Unit alphanumeric display and keyboard
Programming and chip card access protected by user and super-user passwords
ENVIRONMENTAL DATA

Power Supply : 100…277V~ Ѓ}10%, 47…63Hz, 40 VA typical consumption
Operating temperature: -20°C to +65°C (-37°C to +70°C upon request)
Storage temperature: -37°C to +70°C
Relative humidity: 0 to 95% (without condensation)


INSTALLATION DATA

Automatic synchronization between two or more metal detectors with distance of down to 5 cm without the use of external cables
Automatic Installation function (OTS)
CERTIFICATION AND COMPLIANCE
Compliant with and certified to the applicable Standards for Enhanced Metal Detectors (EMD)
Compliant with the applicable electromagnetic Standards on Human Exposure and Pacemaker Safety
Compliant with all Airport Security Standards worldwide
Compliant with applicable International Standards for electrical safety and EMC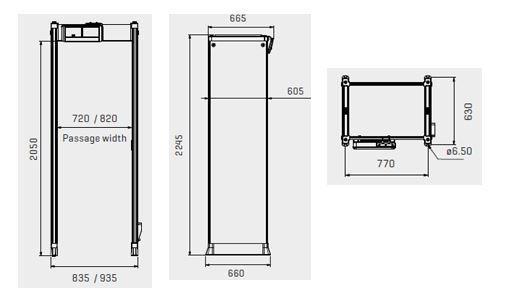 For more information see: HI-PE PLUS – Brochure.pdf