Hand-Held Metal Detector СEIA PD140E
PD140E NEW GENERATION COMPACT HAND HELD METAL DETECTOR
FEATURES
Fully Compliant with NIJ Standard - 0602.02
Compact, Elegant, Robust and Ergonomic
Uniform Detection of Magnetic and Non-Magnetic Targets
Full Digital Design: Consistent Performance and Calibration-Free Operations
Extended Continuous Operation Time
Programmable Sensitivity
The PD140E is a Hand Held Metal Detector that combines high reliability and ergonomics with advanced detection and operator signaling features. Effective sensitivity to all metals, full compliance with the latest Security Standards and high immunity to external metal masses are among the main peculiarities of this new device.
COMPACT, ELEGANT, ROBUST AND ERGONOMIC
The PD140E features a special ergonomic design consisting of an offset hand grip which ensures that the operator's hand does not interfere with the sensitive detection area. Special care has gone into the mechanical design of the detector. Absence of sharp edges or corners allows the detector to be passed smoothly over the inspected area without getting caught in buttons, buckles, folds or other parts of clothing.
NIJ STANDARD 0602.02 COMPLIANT
The technical features of the detector comply with the NIJ standard 0602.02 and the new NIJ draft standard 0602.03. The PD140E has uniform sensitivity to magnetic and non-magnetic targets including those made of stainless steel. At the same time the detector offers excellent body-effect compensation and has high immunity to external disturbance from electromagnetic and mechanical sources.
FULL DIGITAL DESIGN
The PD140E is fully digital. Electronic functions include a magnetic field transmitter- receiver based on Digital Signal Processing (DSP) technology. This design, combined with a special printed antenna, ensures consistent performance, very high reliability and calibration-free operations.
LATEST PLASTIC MATERIALS TECHNOLOGY
The metal detector casing is made from next-generation technical polymers. These plastics offer high chemical resistance and mechanical strength ensuring a long detector life even in heavy duty conditions.
ADVANCED ALARM INDICATION
The alarm signalling modes include: optical alarm proportional to the intensity of the detection signal; acoustic alarm with a tone which is proportional to the size of the object detected; vibration alarm signal.

Specifications
POWER SUPPLY
2x AA size alkaline or NiMH rechargeable batteries
FULLY CUSTOMIZABLE
Optical, acoustic and vibration alarm modes
3-level sensitivity selection buttons
BATTERY
Battery life: 100 + hours continuous service (AA alkaline batteries)
Low battery indicator
OPERATING TEMPERATURE
-40°C to 70°C
STORAGE TEMPERATURE
-40°C to 80°C
RELATIVE HUMIDITY
0 to 98% (without condensation)
DIMENSIONS
360 mm x 80 mm x 40 mm
WEIGHT
390 g (with battery)
COLOR
Light grey RAL 7040
MANUFACTURED IN GREY SHOCK-RESISTANT TECHNICAL POLYMERS
COMPLIANCE
Conforms to the NIJ 0602.02 Standard and the NIJ 0602.03 Draft for metal detection.

Conforms to the international standards currently applicable for safety, EMC and to the applicable CE regulations
Shipping Information
| | |
| --- | --- |
| PACKAGE DIMENSIONS | 410 mm x 70 mm x 125 mm (LxDxH) |
| PACKAGE WEIGHT | 550 g |
HHMD-6: Six Hand Held Metal Detector set
FEATURES
Fast deployment of six HHMDs set
Minimum space requirement
for multiple HHMDs transport
Lightweight and robust construction
Alkaline batteries and test pieces included
Size compliant with requirement
for transport in air carries cabins
Weather-Resistant
APPLICATIONS
Special Forces
Police, Army
High mobility applications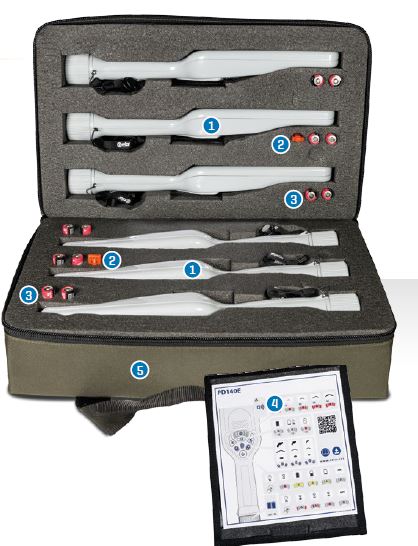 PD140E.pdf